SolarEdge Inverter Review
For a SolarEdge inverter review to bear any kind of credibility, weight or relevance, especially a review which overtly criticises and highlights ostensible negative aspects of a product and its manufacturing company, the review should emanate from either:
end-users of SolarEdge inverters & power optimisers;
an accredited testing laboratory… Or, in the very least;
a reputable, independent & non-biased consumer advocacy group.
So, when it was brought to my attention that a small number of solar installation companies had taken to their blog's and social media to publicly disgrace SolarEdge by allegations of high failure rates of their power optimizers and inverters under the guise of a SolarEdge review, I immediately met such reviews with a sense of scepticism and cynicism of an ulterior motive behind those reviews. Nonetheless, I was also immediately concerned however, by the alleged high failure rates reported, and decided to investigate the viability of such claims. This is because Solar Hybrids has installed many SolarEdge power optimiser systems since we first began offering them in early 2017, mostly to commercial and industrial customers. I started by checking all our installed systems to calculate our own SolarEdge inverter & power optimiser failure rate…
As safety for our clients is our number one priority, Solar Hybrids actively promotes SolarEdge systems for its additional DC safety features alone. Therefore, as accredited SolarEdge installers and re-sellers, publishing the results of our SolarEdge failure rate internal investigation, as impressive as they are, would, and should be met by a certain amount of scepticism by any reader. In consideration of this conundrum, a far more credible product testimonial would therefore have to emanate from our customers themselves. So I asked some of them what they felt about their experience with their SolarEdge systems to date. Here is what they had to say:
What Solar Hybrids Customers Have to Say About their SolarEdge Systems
King's College
"King's College is a Residential College that accommodates men attending university. Our buildings are known as class 3 buildings, and as such, it is regulated that any solar power array shall keep its DC array voltage below 600V DC for safety reasons. Solar Hybrids identified this constraint during the tender process, and as such, recommended the SolarEdge power optimiser system which has a solution to keep within the 600V DC max rule. Solar Hybrids was awarded the tender, and in Jan 2018 commissioned a 99.9kW SolarEdge system with LG solar panels on our rooftop at King's College, in Brisbane. Several months later, Solar Hybrids discovered a faulty bypass diode on one of the LG panels by using the on-line monitoring, and quickly replaced the panel under manufacturer's warranty the following day using a panel from their own stock:

In September, I received a call from one of the engineers at Solar Hybrids suggesting they may have detected another faulty panel. They sent out a technician the following week, who quickly discovered the problem…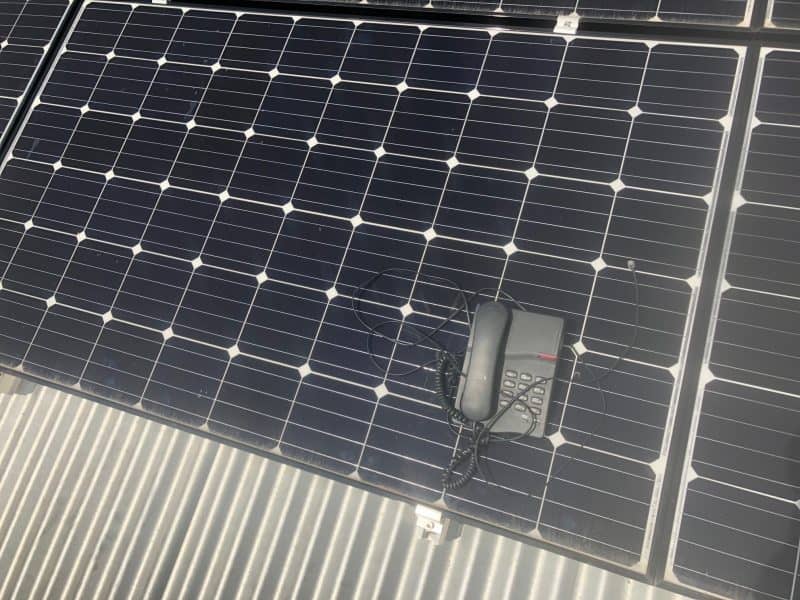 "Not sure how that phone got there, but one thing's for sure, we are very impressed with the SolarEdge system and I would happily recommend SolarEdge and Solar Hybrids to other businesses considering installing solar."
David Warren, Bursar, King's College, St Lucia, Brisbane, Qld
I feel it deserves a mention that in the earlier case mentioned by David above, LG reimbursed Solar Hybrids the following week, not only for the cost of our replacement LG solar module from our stock, but for our labour and the time spent diagnosing the faulty bypass diode. Faults with LG solar panels are extremely rare, and very few solar panel manufacturers offer this level of after-sales financial support, but the most important point to take away from this example, is that even the most reliable solar panel brands in the world can have failures, and some strange problems can simply fall from the sky or out of the blue, and that without individual panel optimisation & monitoring, it is highly unlikely that these problems would have ever been detected. Worse still, such problems would have affected, to a certain degree, the performance of all other solar modules within that string of modules, if it weren't for the power optimisers.
This was a good start to the investigation, I'm sure you will agree, but I did not stop there…
University of Queensland
The next notable SolarEdge system I investigated is a 226kW system we installed in Aug 2017 on level 6 & Level 8 of the Pharmacy Australia Centre of Excellence (PACE) building at Woolloongabba in Brisbane, on behalf of the University of Queensland. Here is our case study for this impressive system:
https://www.solarhybrids.com.au/case-study/the-university-of-queensland-226kw-school-of-pharmacy/
The University of Queensland is the largest solar generator among Australian universities; you are able to access live data from the above system from the University's case study page here:
In fact, the above system is well documented in the solar industry for reasons of SolarEdge's capabilities to overcome the site's unique problematic challenges regarding the complex design constraints for a commercial solar power system. An in-depth article regarding the challenges of this site can be found here from the well-respected & renowned PV Magazine Australia:
https://www.pv-magazine-australia.com/2018/04/17/uq-rooftop-project-demonstrates-power-optimizer-value-at-ci-scale/
…Impressive, but to be thorough, I continued making calls…
Solar Edge's Superior Safety
"Safety is very important to us and our employees, so that is why we decided to pay a little extra for SolarEdge's superior safety. Solar Hybrids installed our 91kW LG solar system on our factory roof in Darra, Qld, in September 2017. Two months later they emailed me the system's performance image below, with the black solar panel clearly identifying a lack of production: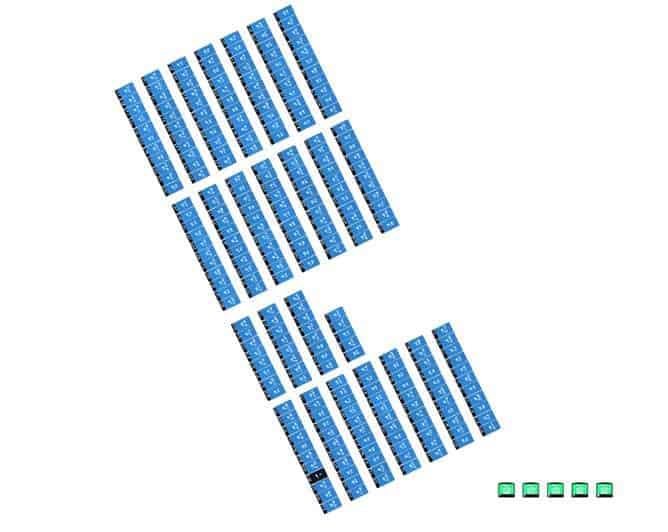 O&M With SolarEdge
"Solar Hybrids came on site a few days later and diagnosed the problem as a faulty optimiser and quickly replaced it on the spot. Since then, no other problems have been detected and the system is saving us more than we had expected. We are very impressed with the setup and I would highly recommend Solar Hybrids to any business considering solar."
Owen Downes, Research & Development, Excel Lockers, Brisbane, Qld
"Solar Hybrids installed a 15kW LG solar power system on our warehouse roof in Oct 2017. We are extremely happy with their service – which didn't end once we paid our invoice. We have experienced no problems with the system – it has exceeded our expectations. It was a very good investment for our business that gave us the added bonus of being a taxable deduction."
Kirsty Foley-Lewis, Manager, Eternal Signs, Kallangur, Qld
So, What Is The Truth?
I could go on and on, but if there is any truth to the 'industry-wide' high-failure rates of SolarEdge inverters and power optimisers reported from the bowels of the internet blogged by minor solar installation companies, then perhaps all our clients so far have simply been lucky? Or could their luck perhaps be due to other reasons, like the proper training Solar Hybrids has invested in our skilled engineers and installers? I will leave that up to the reader to decide.
I could also go further with my investigation and ask one of our engineers to don the old lab coat, dust off the spectrum analyser, thermal camera, and flux capacitor, and conduct our own backyard product comparison experiments and deduce a myriad of false conclusions…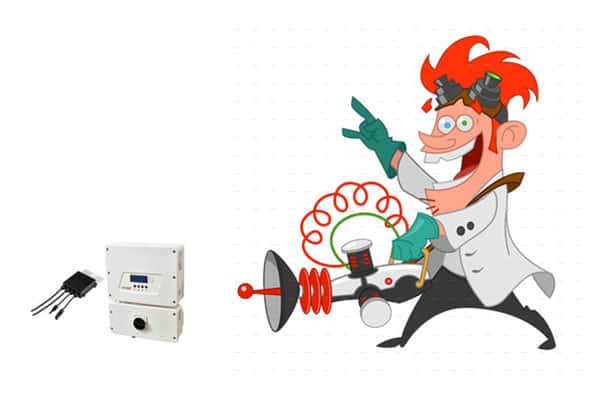 But I won't.
Instead, I'll leave those tests to the accredited testing laboratories & reputable independent consumer advocacy groups… and the tools of the industry. Market economy laws will ultimately decide however, which products will stay on top, and which will fall by the wayside. There are of course many reputable websites which will give you the full range of technical advantages and disadvantages of DC optimisers and other solar Module Level Power Electronics technologies and brands; a simple Google search will find many related articles; here is ours:
https://www.solarhybrids.com.au/system_offering/module-level-power-electronics-systems-mlpe/
The numbers do speak for themselves however; SolarEdge is a global leading inverter manufacturer with over 9.6GW of its DC optimised inverter systems shipped, and over 750,000 SolarEdge PV sites monitored in countries around the world, as of November 2018. The company's share of U.S. residential installations reached 45% in March 2018, and is also growing rapidly in Australia. It is difficult to conceive that an alleged rubbish product with high failure rates could ever achieve global success of this magnitude.
Think Before You Speak
Based in Brisbane, Solar Hybrids until now, has been the quiet achiever. The fact that we felt obliged to write a SolarEdge review to defend a great product which makes solar power systems safer, reflects very poorly on the Australian solar industry and its representative bodies in Australia. We too, have come across many products and manufacturers that we dislike, and the Directors of the company have decided that our approach is to simply vote with our feet and not promote nor sell those products. It is true that all consumer electronic products suffer failures to some degree, no matter how well they are built and tested, however, we would consider it unjust, unprofessional, unethical, and simply downright rude to publicly criticise and trash any product or its manufacturer. Such behaviour is against our company's code of conduct, ethos and values, and it is a great shame and black stain on our industry to see such behaviour so commonplace and accepted by many within. New cowardly keyboard warriors and trolls are being spawn by the day on the dark web, spoiling further the already tarnished reputation of the solar industry in Australia. So if you are one of the few installers who may reply to the negative blogs with words of gratitude and encouragement for the blogger, it may pay for you to pause a moment and think of what code of ethics you are publicly displaying, and what your potential future customers may think of your character and behaviour. Spit your sour grapes into the bin please, not on to the internet.
By Gino Fiocco, Managing Director, Solar Hybrids, Brisbane, Australia
The best Solaredge inverter review in Australia.