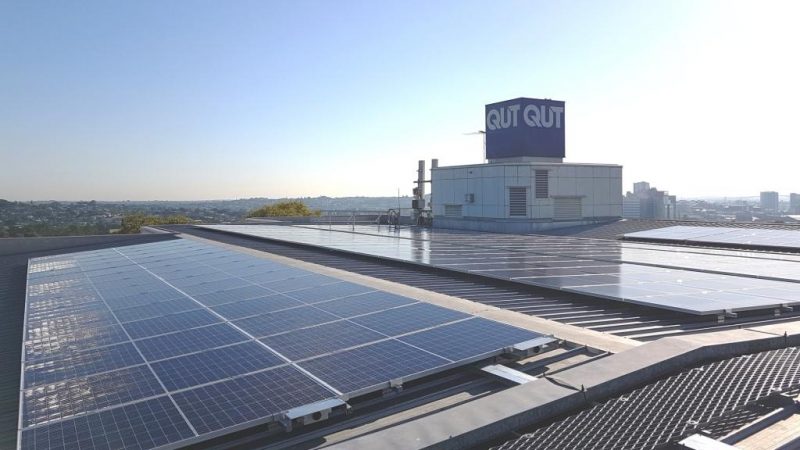 Commercial Solar Systems Brisbane
A commercial solar power system differs largely from that of a residential solar system in terms of size, complexity and functionality. Unlike most small residential systems, additional strict measures for protection of the grid is a mandatory requirement. This usually entails additional export control hardware to automatically ramp down rapidly the instantaneous solar power production to match the fluctuating loads of the business. This is often necessary in order to prevent sudden and excessive solar energy exporting to the grid, which may otherwise cause grid voltage instability, a grid phenomenon refereed to by network engineers as 'flicker'. For commercial solar systems in Brisbane greater than 30 kW, even more additional and complex hardware is required in the form of  what is known as Level 2 Network Protection. This incorporates the addition of a Programmable Logic Controller (PLC), and contactor who's role is to monitor grid fluctuations & instability and solar PV production, and to automatically disconnect the solar system from the grid in the event of any critical hardware failure within the system. Systems over 30 kW are usually mandated to be designed and signed off by a chartered electrical engineer (RPEQ in Queensland).
Experience our experience
Good project management is essential to minimising disruption to our client's business activities. At SOLAR HYBRIDS we are Brisbane based industry leading commercial solar and energy storage systems experts.  Over the past six years we have designed and delivered an impressive portfolio of renewable energy projects of various technologies in Brisbane and across Australia for many well-known businesses and organisations such as Universities and Government Departments. We specialise in providing full turnkey commercial solar systems from engineering design through to construction right across Qld, all performed in-house with our own team of highly experienced RPEQ engineers, Clean Energy Council accredited solar designers & installers, and qualified project managers. This ensures effective and stringent safety & quality controls for every step of the process from system design, installation and commissioning, through to ongoing performance monitoring, reporting and maintenance.
Free Commercial Solar Quotes Brisbane
We offer free commercial solar quotes and proposals for Brisbane clients. Our approach is simple; our engineers analyse your existing infrastructure as a well as your electricity bill & meter data in order to customise a solution that delivers the maximum results for your business or organisation. Our experienced commercial solar sales representatives together with support from the engineering team will provide you with an industry-best system design & proposal, and will explain the highly detailed technical features and financial analytics in order for you to make an informed decision based on the factual science presented, without the sugar-coating.
Why choose us?
Like us, all of our competitors claim that they are the most experienced in the industry and that their solar solutions are the most reliable on the market – even those who offer budget equipment. No company will admit they are mediocre and that their systems fail after only a couple of years. So how can you tell the real McCoy from the cowboys? This may seem daunting faced with the myriad of companies and technology options available, but one simple method is to check out an installer's Projects or Case Studies webpage. If they don't have one, that is concerning, and you should ask to see viable testimonials and photos of some of their installations before proceeding further. If all they have to present is a plethora of small cheap systems for small unknown business and you are after a larger reliable one, then alarm bells should be ringing.
Watch our short video to see just what Solar Hybrids can do for your business:
We are a highly experienced group of dedicated solar PV professionals who are passionate about renewable energy and have been working together in this industry for over a decade.  See some of our impressive case studies below: